Digital Whiteboards Deliver Better Care in OB
3 min read
Jun 30, 2023 12:57:51 PM
Estimated reading time: 4 minutes
Experience the future of LDRP care with our innovative Labor, Delivery, Recovery & Postpartum Digital whiteboards.
These cutting-edge digital whiteboards offer a seamless touch interface and promote collaboration and self-service, making patient care more efficient than ever before.
Labor and Delivery Nurses, working in collaboration with obstetricians, play a crucial role in providing personalized care to expectant mothers. It is essential to capture all the relevant information during a mother's stay, especially during shift changes. HCI digital whiteboards offer a simple touch interface and seamless integration with existing hospital systems to facilitate this process. With configurable layouts, managing room availability and staff scheduling becomes easier for Charge Nurses and Unit Managers.
Did you know that digital whiteboards can be customized for all phases of LDRP?
Having up-to-date information about a patient's progress is vital for their well-being. In OB departments, uniform care for both mothers and infants depends on timely updates before, during, and after the birth process. By displaying important patient data for both mother and newborn side by side, split screen layouts enable caregivers to navigate care plans and discharge instructions more efficiently. Furthermore, configurable digital whiteboards can be utilized in NICU units to monitor the baby's progress, while video monitoring adds an extra layer of safety in NICU and LDR units.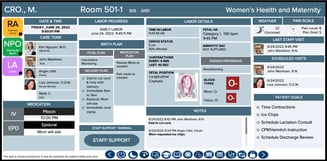 The split touch screen displays information about the mother and newborn side by side, with a dedicated page for the mother's antepartum data.
It is crucial for mothers to receive proper education and information about their labor and delivery process. Additionally, they should be well-informed about schedules and care for the newborn. To ensure a smooth transition from the hospital, providing prescribed educational content can help the new family understand what to expect and how to promote the healthy growth of their baby. It is important to offer a wide range of video content in multiple languages for better accessibility. Translators should also be readily available as needed. Luckily, supplementing existing education programs with digital content makes it easy to provide the new family with the necessary information for a successful transition to home.
In addition to the mother, partners and family members also need access to the most up-to-date information so they can pass along delivery status updates to loved ones. MediaCare offers convenient options for bedside meal ordering and even retail or gift shop ordering. At discharge, families also have the option to have their prescriptions automatically filled before leaving the facility, right from their room.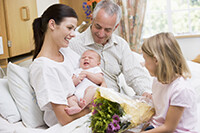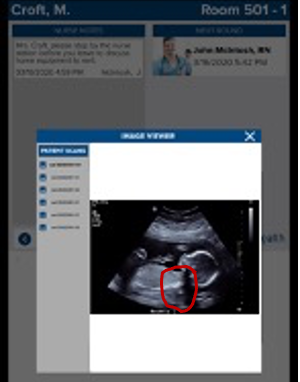 MediaCare seamlessly integrates with various systems such as the EHR, Nurse Call, RTLS, ADT, Active Directory, "Smart" Bed Systems, and PAC systems, our digital whiteboards empower Nurses and OB/GYNs to easily report medication and procedure changes, review and annotate scans, and monitor EHR Nurse Notes. This streamlined communication within the Care Team ultimately leads to more accurate and efficient care.
In addition to these advanced functionalities, HCI's touch-enabled digital Patient Whiteboards offer configurable layouts that cater to the unique needs of specialty departments in healthcare facilities. Whether it's split screens, customizable colors, or department-specific apps, MediaCare allows Nurses to streamline their workflows and provide better care. From planning for discharge and therapies to responding promptly to Nurse Calls, Codes, and Alerts, our digital whiteboards integrate smartly to enhance overall efficiency.
Furthermore, our custom antepartum and postpartum digital whiteboard layouts provide comprehensive information that the entire birth team requires. This ensures that everyone, including the mother, is well-informed about their stay and discharge plan. With HCI's digital patient and family whiteboards, LDRP teams and new moms receive the support they need for a successful birthing experience.
Discover how digital patient and family whiteboards can provide valuable support to LDRP teams and new moms alike.