Interactive Digital Whiteboards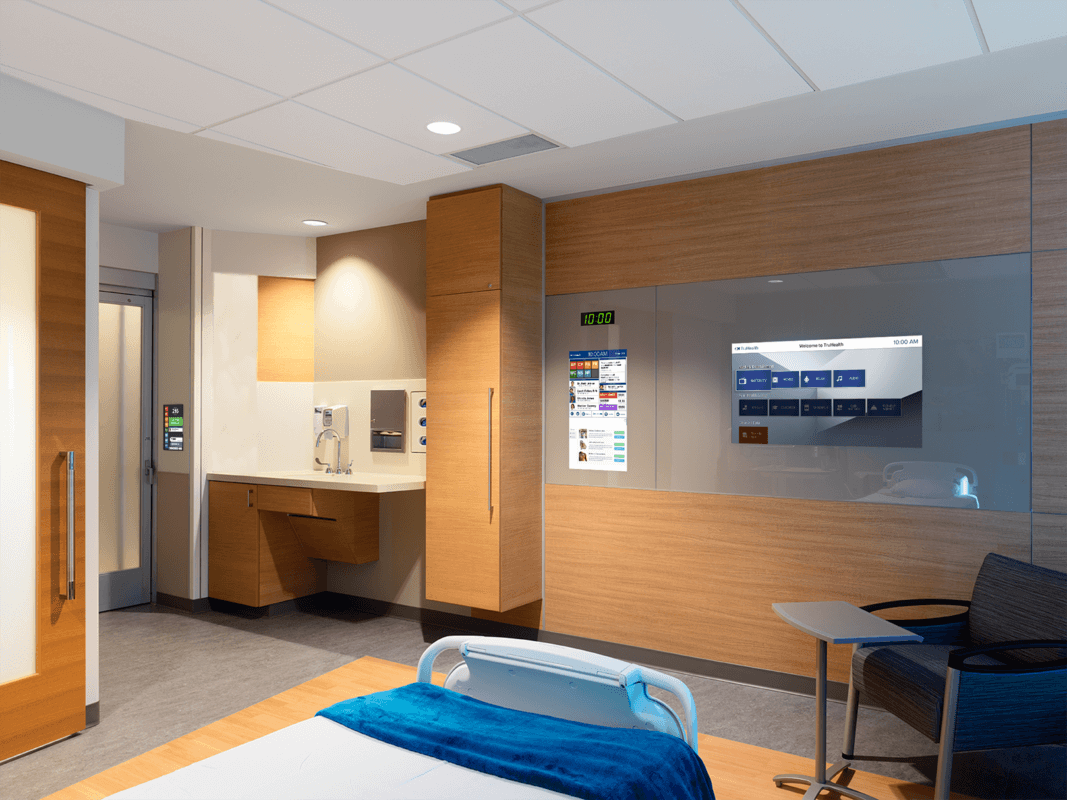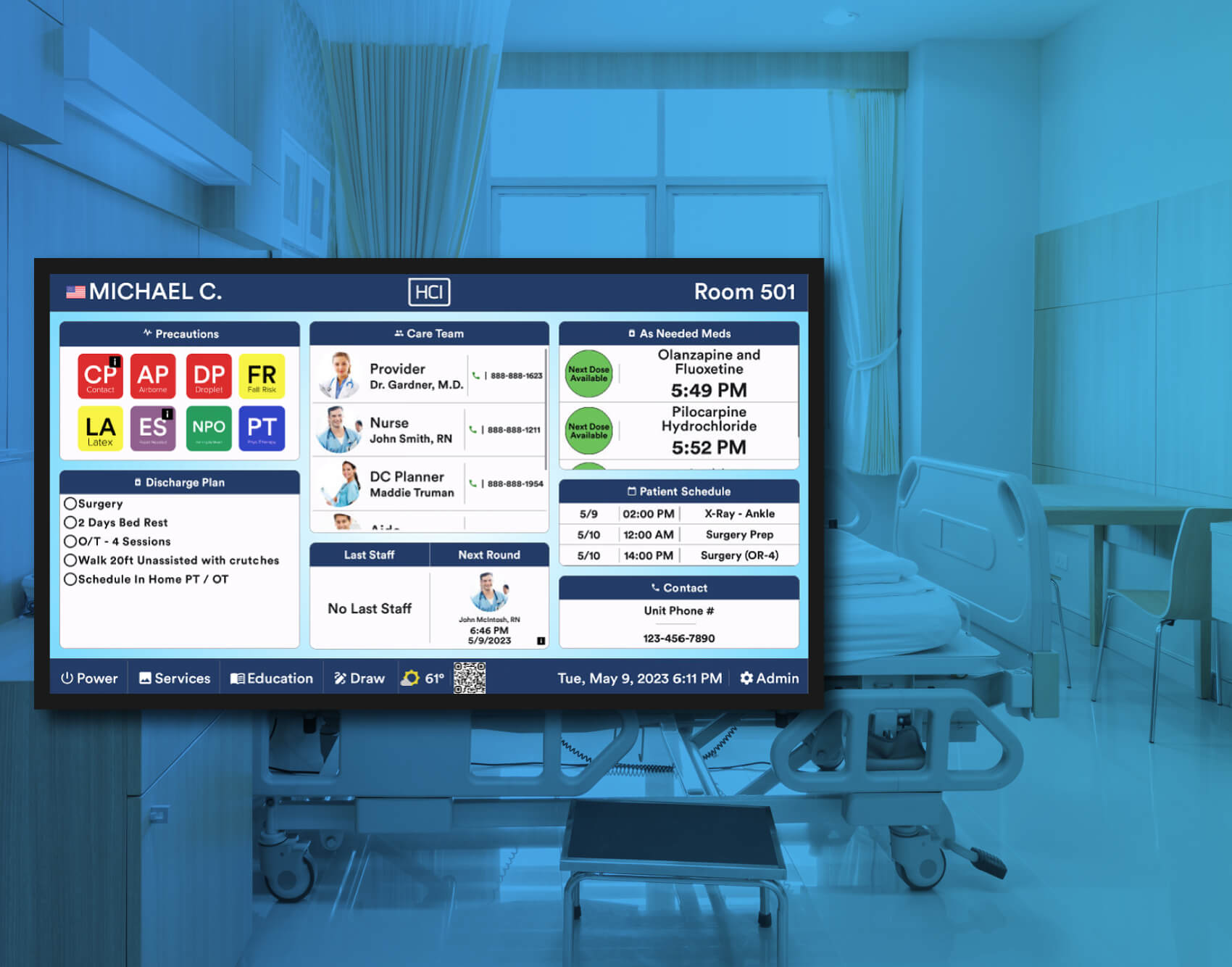 Enhancing Efficiency, Collaboration, and Patient Engagement
At HCI, we understand the critical role that efficient communication and streamlined workflows play in providing exceptional patient care. That's why we have developed the HCI Patient Digital Whiteboard, a comprehensive solution that optimizes operational efficiency, promotes interdisciplinary collaboration, and enhances patient engagement.
With our digital whiteboard, healthcare providers can access patient information, manage tasks, and communicate seamlessly, all in one centralized platform. The interactive features of the whiteboard enable caregivers to easily track patient progress, monitor vital signs, and provide real-time updates to the care team.
By empowering patients with personalized education materials and entertainment options, the HCI Patient Digital Whiteboard enhances patient engagement, leading to improved patient satisfaction and better health outcomes.
Digital Whiteboard Configurations & Modules
With our deep experience, HCI has developed more than 50 customizable modules to address the specific needs and challenges faced by healthcare organizations, ensuring a comprehensive and tailored solution for each unique client and setting.
Our Digital Whiteboard Software is compatible with HCI Hardware (Portrait or Landscape Mode) and with Leading Healthcare TV Providers.
HCI Interactive Digital Whiteboards are available in standard TV sizes: 22", 27", 32", 43", 55", 65", and 75".
Custom Branding & Personalization
HCI Whiteboards offer the advantage of custom branding, allowing healthcare organizations to personalize the digital whiteboard system with their own logo, colors, and visual elements. This helps create a consistent brand experience and fosters a sense of familiarity for both staff and patients.
Care Planning
HCI Whiteboards facilitate care planning by providing a centralized platform for care teams to collaborate, document care plans, and track progress. The interactive nature of the whiteboard allows for real-time updates, ensuring that everyone involved in the patient's care has access to the most current information, leading to more coordinated and effective care delivery.
Smarter Integrations
HCI Whiteboards integrate seamlessly with other hospital information systems, such as electronic medical records (EMRs) and nurse call systems. This enables automatic data synchronization and real-time information updates, reducing manual data entry and enhancing data accuracy. By consolidating data from multiple sources, caregivers can make informed decisions quickly and efficiently.
Alerts & Notifications
HCI Whiteboards provide timely alerts and notifications to care teams, ensuring that critical information is communicated promptly. These alerts can range from patient-specific alerts, such as fall risk or isolation precautions, to general announcements or reminders. By keeping everyone informed and aware, the whiteboards help improve patient safety and care coordination.
Enhanced Communications
HCI Whiteboards enhance communication among care teams, patients, and families. They offer features such as messaging systems, video conferencing capabilities, and real-time updates, enabling efficient and effective communication. This leads to improved collaboration, better patient engagement, and enhanced patient satisfaction.
Flexible Layouts
HCI Whiteboards offer flexible layouts that can be customized to meet the specific needs of different care settings and workflows. Care teams can arrange and organize information based on their preferences and priorities, ensuring that the whiteboard displays the most relevant and essential information at a glance. This flexibility enhances usability and usability, making the whiteboard system adaptable to various healthcare environments.
Ready
To Get Started?
Please fill out the Form and someone will be in touch right away!