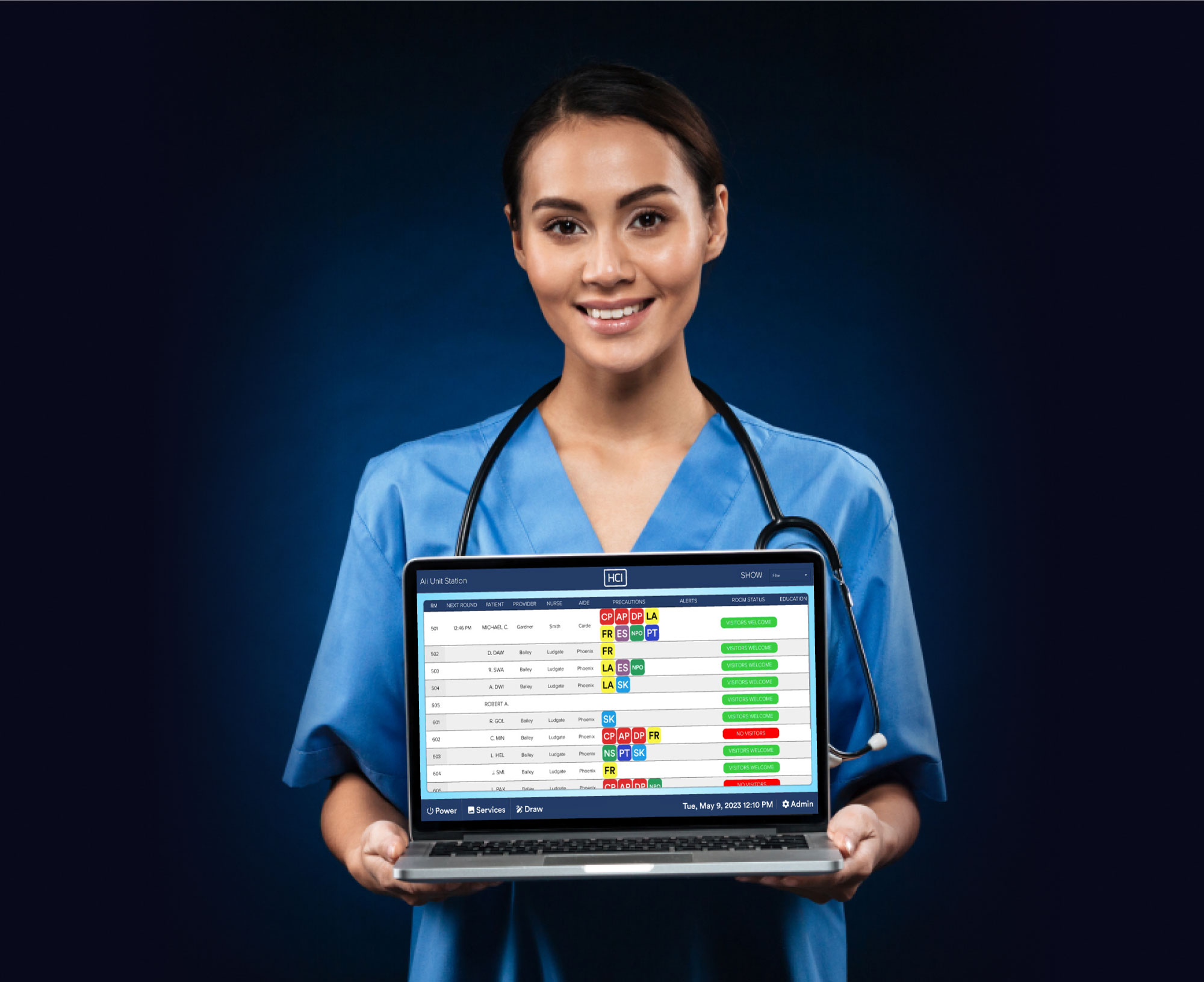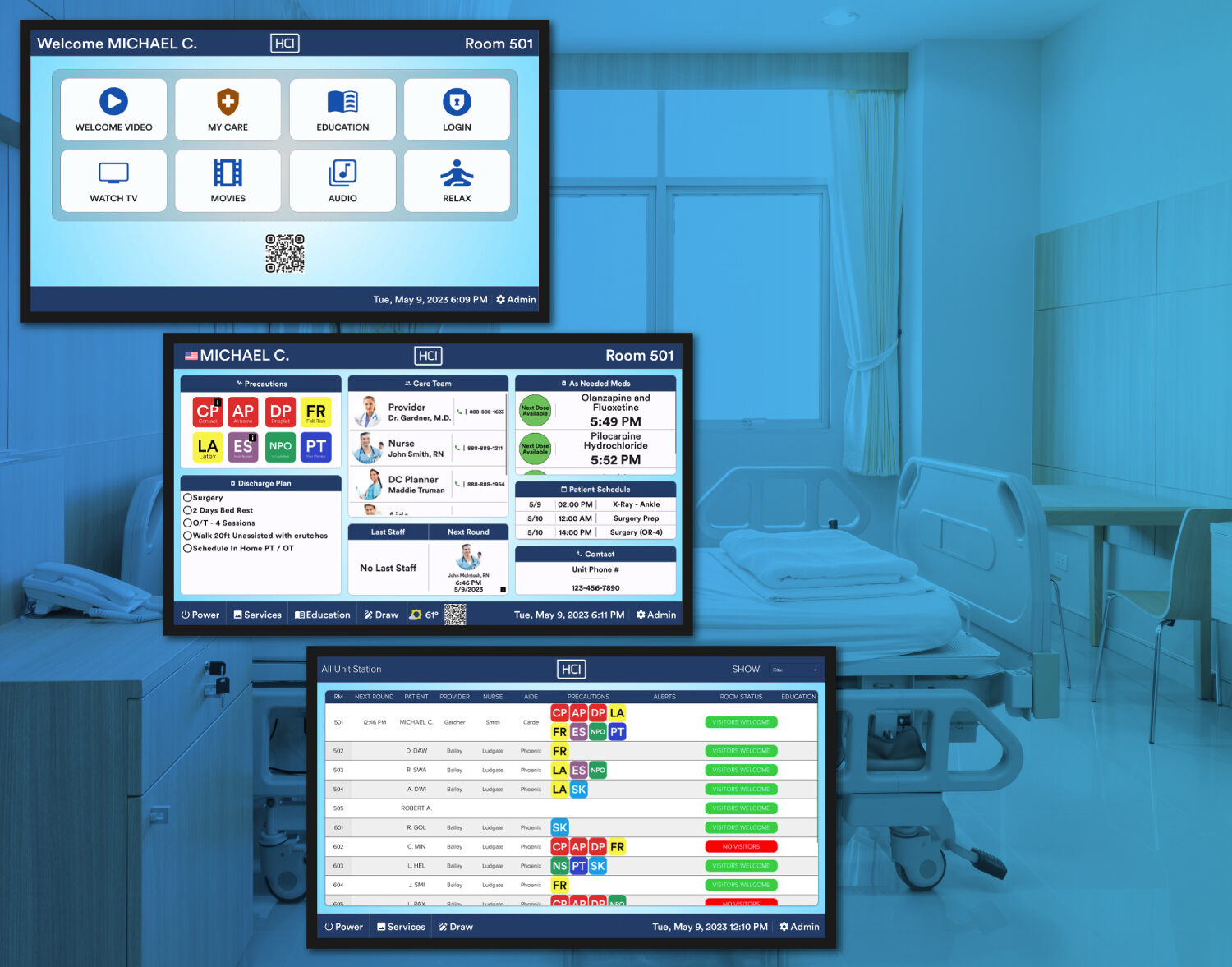 Comprehensive Healthcare Display Solutions
With decades of experience in the healthcare industry, HCI has a deep understanding of the unique challenges faced by hospitals, clinics, and other healthcare settings.
We have witnessed the evolution of healthcare technology and have consistently adapted our solutions to meet the changing needs of the industry. Our comprehensive suite of products and services is designed to address the complex communication requirements of modern healthcare environments.
What sets HCI apart is our unwavering commitment to innovation, reliability, and customer satisfaction. We work closely with our clients to understand their specific needs and develop tailored solutions that integrate seamlessly into their existing infrastructure.
Together, let's shape the future of healthcare delivery and create better experiences for patients and healthcare professionals alike.
What We Do
Our comprehensive range of products and services, including interactive digital whiteboards, patient engagement systems, and smart TV solutions, is designed to streamline patient workflows, improve patient engagement, and enhance patient experiences.
Streamline Patient Workflows
The HCI System streamlines patient workflows by centralizing key information and tasks in one accessible platform.
Caregivers can easily view and update patient status, track medication schedules, and monitor vital signs, ensuring efficient and coordinated care delivery.
With real-time data integration and seamless communication features, the HCI digital whiteboard system enhances collaboration among care teams, optimizing workflow efficiency and ultimately improving patient outcomes.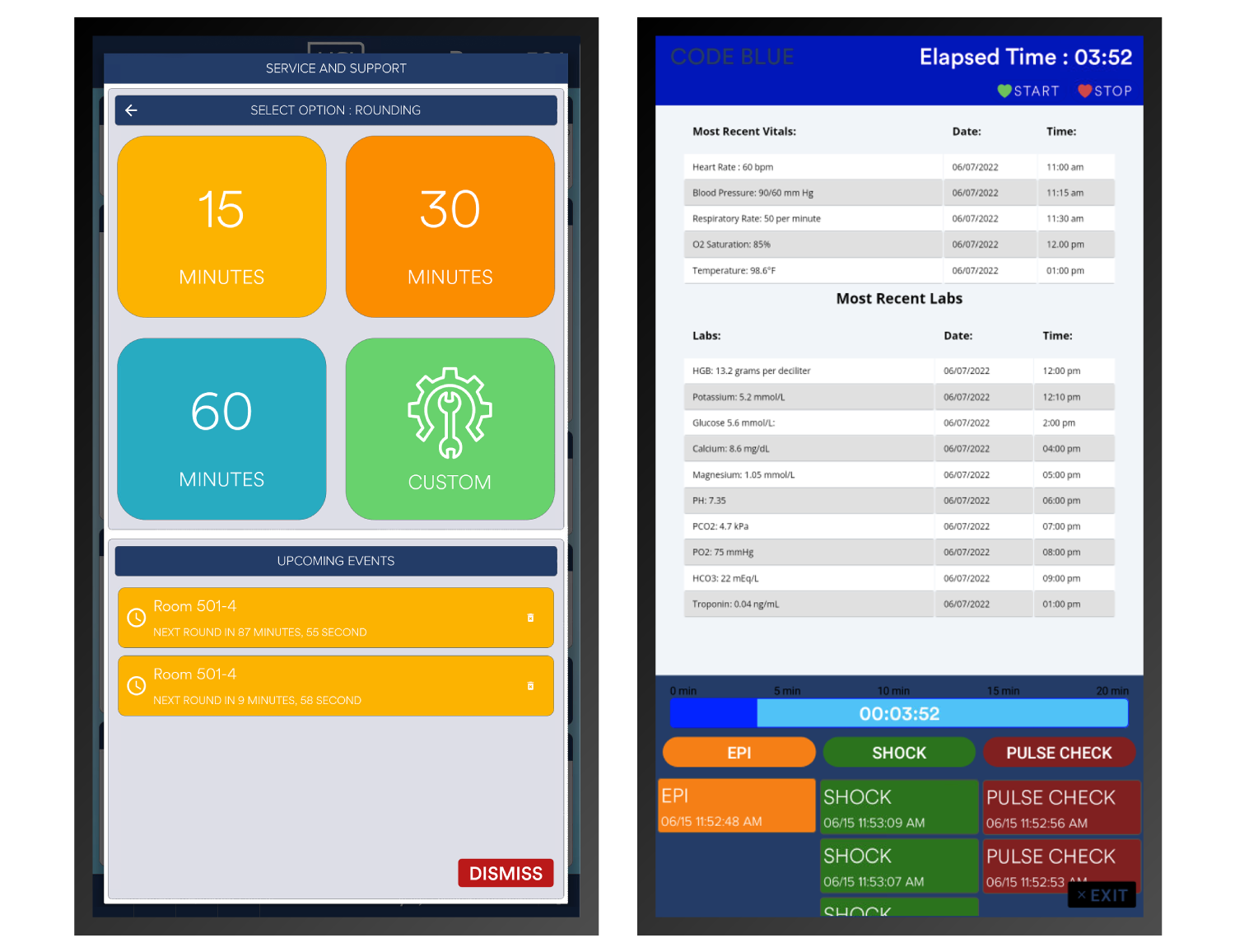 Improve Patient Engagement
The HCI System revolutionizes patient engagement by providing an interactive and intuitive platform for communication.
With its user-friendly interface, patients can actively participate in their care journey, accessing personalized health information, educational resources, and treatment plans.
By fostering a sense of involvement and autonomy, the HCI digital whiteboard system significantly enhances patient engagement and ultimately leads to better health outcomes.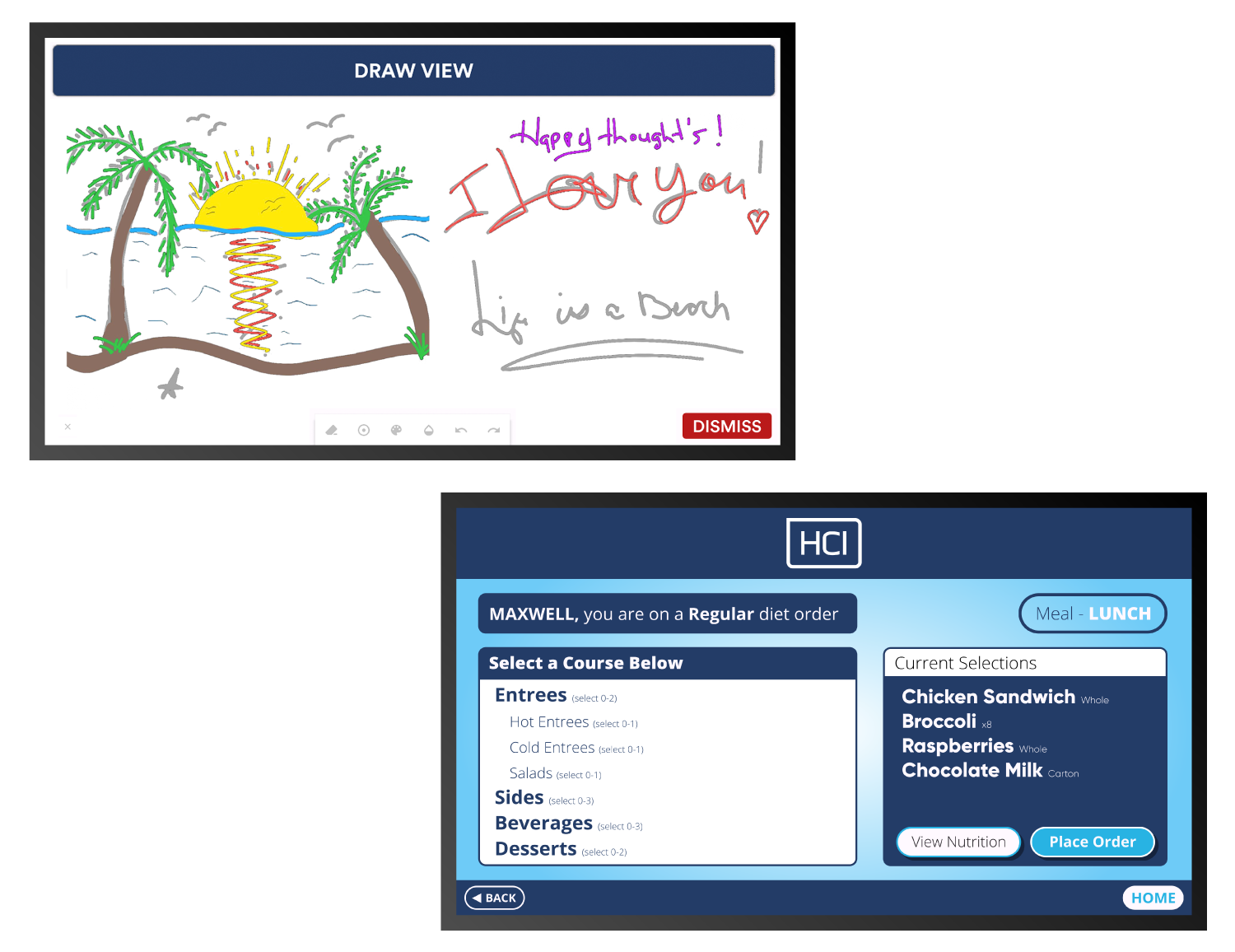 Enhance Patient Experiences
The HCI System transforms patient experiences by creating a more personalized and interactive environment.
Patients can access important information, such as their daily schedule, treatment plans, and care team details, all in one centralized location.
Ultimately, the HCI digital whiteboard system enhances patient experiences by promoting convenience, communication, and personalized care.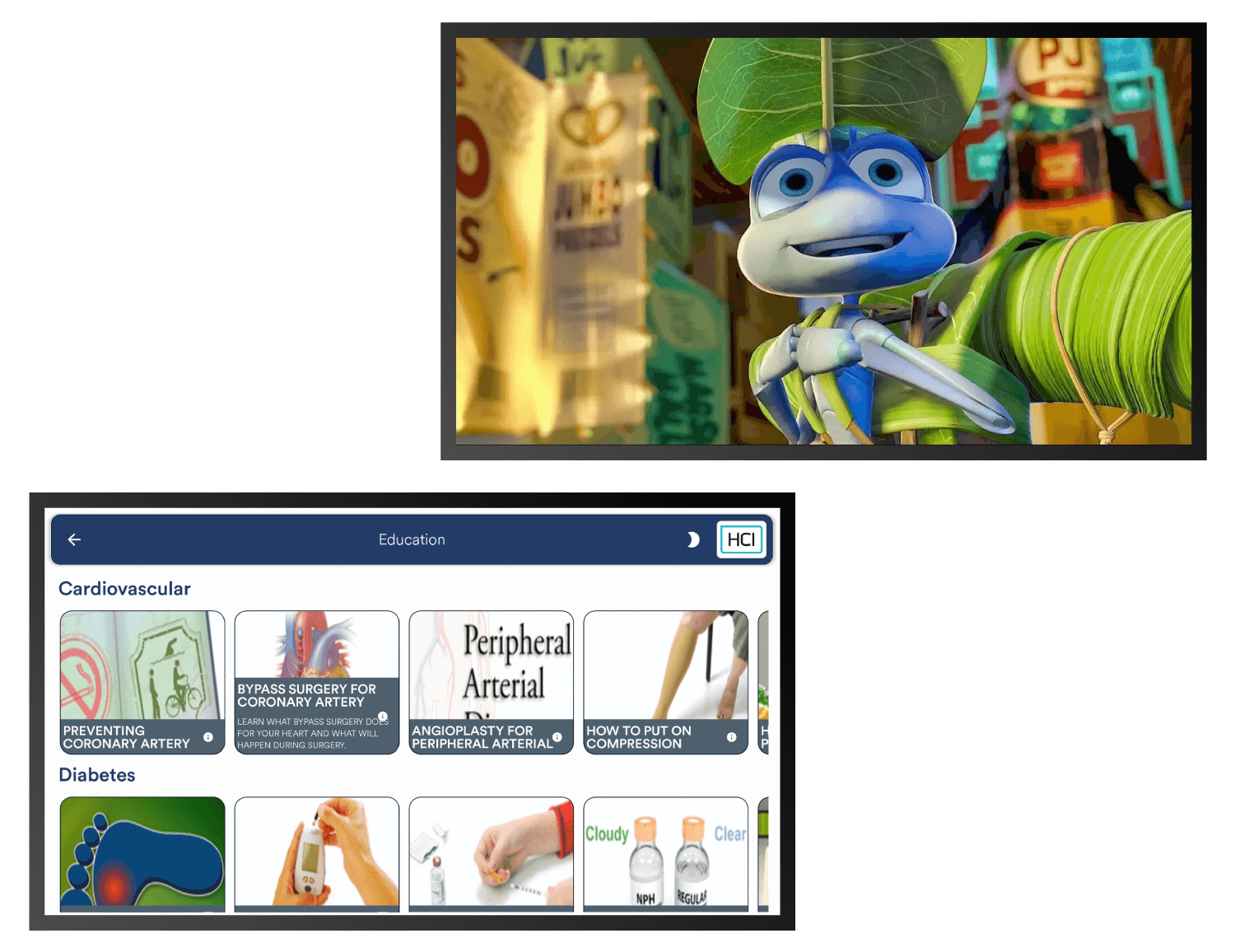 HCI Products Have Reached:
50+
US States & Countries
100,000+
Devices Installed
Comprehensive Solutions
HCI offers a comprehensive range of healthcare TV and digital whiteboard solutions, covering all aspects of patient engagement, communication, education, and workflow management, providing a one-stop solution for healthcare providers.
Deep Industry Experience
With over 20 years of experience in the healthcare industry, HCI has developed a deep understanding of the unique needs and challenges faced by healthcare organizations, allowing them to deliver tailored solutions that address specific requirements.
Cutting-Edge Technology
HCI is at the forefront of technological advancements in healthcare communication, continually innovating and incorporating the latest technologies to provide state-of-the-art solutions that enhance patient experiences and improve clinical workflows.
Seamless Integrations
HCI's solutions seamlessly integrate with existing hospital systems and workflows, allowing for the efficient exchange of data and information, reducing manual entry errors, and streamlining processes for better efficiency and accuracy.
Customization & Flexibility
HCI understands that every healthcare organization has unique needs and preferences. Their solutions are highly customizable and flexible, allowing for tailored configurations that align with specific requirements and workflows.
Exceptional Customer Support
HCI is committed to providing outstanding customer support, ensuring that healthcare providers receive prompt assistance, training, and ongoing technical support. Our dedicated team of experts is readily available to address any concerns and ensure smooth implementation and continued success.
We have relied on the quality of HCI's engineering for 12 years in delivering over 10,000 TV's and Android Tablets to the largest provider of Renal in-clinic Patient care in the United States. HCI's product ingenuity enables advancement of the Value Based Medicine Missions. HCI's ability to personalize content and engage patients has significantly enhanced the Patient Experience to positively move the needle on Provider ICH CAHPS results. HCI's support and responsiveness have exceeded our expectations, making them a trusted manufacturer and partner for over a decade!
Ready
To Get Started?
Please fill out the Form and someone will be in touch right away!