Digital Health Education Promotes Better Outcomes
3 min read
Jan 25, 2023 11:35:00 AM
Estimated reading time: 5 minutes
Digital health education increases health literacy
MediaCare from HCI provides personalized digital health education for patients, accessible through their in-room digital whiteboard or television. Care Teams have the ability to assign evidence-based and age-appropriate patient education videos from a wide range of digital content. Whether you choose to utilize your current digital education system or opt for a subscription service, MediaCare, in collaboration with HCI Interactive Whiteboards, Interactive Modules, and patient TVs, offers:
- Automatically delivered diagnostic and patient-specific educational content, either on a schedule or as determined by medical staff.
- Reporting on completion rates, including the ability to send reminders to patients to ensure they complete their education viewing.
- Automatic entry of patient compliance data into the EHR, with ongoing monitoring of comprehension.
- A digital learning app that meets Joint Commission Standards and aligns with ARRA Meaningful Use goals for improved health outcomes.
By leveraging digital technology, clinicians can focus more time on critical patient care tasks. Consistent communication and timely follow-up are key to ensuring patients are engaged, well-informed, and adequately prepared for discharge. Discover how digital patient education enhances health literacy for long-lasting recovery.
According to a study conducted by the California Healthcare Foundation, integrating digital systems with an education component can significantly reduce the time nurses spend initiating an education session. The study found that the time was reduced from 19.1 minutes to just 5.2 minutes, resulting in a time savings of nearly 14 minutes per round. This is a significant advantage for the Care Team, allowing them to focus more on critical patient care tasks.
To get started with implementing a digital education system, the first step is to choose a content library. HCI works with various health content providers, and you can find a list of them here. Alternatively, you can also use your existing video library as the content delivery system.
Once you have chosen a content library, the next step is to determine how to set up content assignments. This can be done right at admission, based on diagnosis codes in the EHR. You can also assign educational content based on clinical orders, or search for content topics in the library and assign videos accordingly. Nurses and caregivers can easily access the list of assigned content on the patient's digital whiteboard or in-room patient TV. Using these touchscreen digital devices, they can send prompts to patients to watch the assigned videos. The best part is that caregivers can assign content while they are still in the room, allowing for fresh and contextually relevant conversations with patients.
By streamlining the process of assigning and delivering educational content, a digital education system ensures that clinicians have more time to dedicate to critical patient care tasks. This, in turn, leads to improved patient engagement, better-informed patients, and improved preparedness for discharge.
Discover how digital patient education enhances patient health literacy for lasting recovery.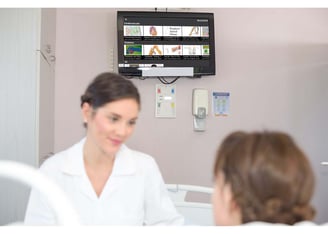 Comprehension follow-up
Following the video viewing, patients are encouraged to answer comprehension questions or seek further clarification. In cases where patients require additional information, HCI can arrange for automated notifications to be sent to designated individuals who can then provide personal follow-up. This extra step is particularly beneficial for patients with comprehension or language challenges as it ensures a thorough understanding of the content and promotes higher adherence. Additionally, surveys can be distributed based on branching logic to gather feedback on the content. The personalized attention allows for addressing any confusion and ensuring clarity for the patients. Clinicians also have the flexibility to modify, add, or delete videos that patients can view. The versatility of MediaCare enables clinicians to assign different or additional content as needed. Furthermore, the viewing of content can be added to a patient's Goals list as a prerequisite for discharge.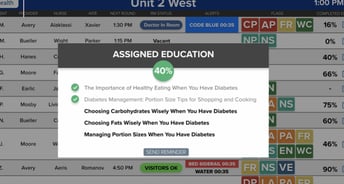 With push messaging to the patient TV, caregivers can assign new content, or play video content on the TV immediately, even if the TV is off.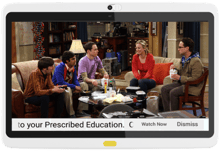 A digital health education system allows clinicians to prioritize critical patient care tasks. Effective and frequent communication, along with timely follow-up, can determine the outcome for patients who are engaged, well-informed, and prepared for discharge versus those who may struggle with the transition out of the hospital.
Discover how digital patient education enhances patient health literacy for lasting recovery. Contact us to learn more.